As we're wading into what we are calling the "new normal," you'll find that frequent and deliberate sanitization is as important as ever. Your home is no exception. After all, disinfecting household furnishings, high-touch surfaces, and appliances helps reduce the chances of contracting infection or sickness.
But of course, aside from the fixtures and fittings, you and your loved ones make a home. For relatively germ-free clothes, linens, and towels, you better make sure your washer is up to the task. Did you know there are laundry appliances with sanitizing cycles?
That's right; you can put down the bleach. Leading appliance brands offer increased water temperatures—and in some cases, oxygenated additives and steam—to deliver a stronger, hard-hitting clean. Check out what brands Electrolux, GE, LG, Maytag, Samsung, and Whirlpool have to offer!
Can Washing Machines Sanitize?
With newer washers boasting a myriad of high-tech features, you might find yourself dredging through a swamp of brand-specific terms.
Super Speed. Quick Wash. Steam Wash. LuxCare. It might be difficult to discern which washer features are essential for your household, but one that is unmistakably imperative is a sanitization cycle—a high-temperature wash or rinse cycle resulting in greater cleaning power.
Luckily, our catalog has a custom filter labeled "Sanitize Option" so that you can narrow your selection of top-tier laundry appliances. But first things first, let's further unpack the value of a sanitize-cycle washing machine.
Is the Allergen Cycle Different than the Sanitize Cycle?
Some washers are stocked with an allergen-reduction cycle, which really comes in handy if you have a furry four-legged family member. But how does this feature compare to sanitary cycles?
Well, the difference comes down to the duration of wash period and temperature. Generally speaking, an allergen-reduction cycle alludes to a longer wash period and a higher water temperature exceeding 131° to eradicate 95% of dust mites. Both the allergen-reduction cycle and the sanitary cycle usually entail an extra rinse.
The LG 4.5 cubic-foot front-load washing machine (WM3900HWA) has a sanitary wash cycle and an AllergieneTM cycle. The former reduces 99% of bacteria with high-temperature water while the latter incorporates steam to reduce dust mite populations.
The GE 5.0 cubic-foot smart front-load washing machine (GFW650SSNWW) functions similarly. Teeming with two GE washing machine sanitize cycles, this appliance has one that focuses on depleting allergens and another that sanitizes with oxygenated additives and a water temperature of at least 120°. While both use elevated water temperature and an additional rinse, the allergen-reducing feature uses steam and an extended rinse cycle.
Does Laundry Detergent Kill Germs?
When it comes to the question of whether using detergent is enough to eradicate all germs from your laundry, the answer lies in the difference between cleaning and sanitizing.
Cleaning reduces the number of germs, dirt, and impurities. Sanitizing kills germs. Both are important, which is why sanitize-cycle washing machines are highly coveted, especially in the midst of the COVID-19 pandemic.
The Electrolux 4.4 cubic-foot front-load washing machine (EFLS627UTT) provides the most effective stain removal by premixing water and detergent before the first cycle even begins. Plus, its Adaptive Dispenser is the first in the industry to accept detergent pods in addition to the tried-and-true liquid version. Leave it to this washer to maximize detergent power while employing steam-sanitizing technology that rises from the bottom of the appliance, gently lifting dirt and stains from fibers.
What Can You Use the Sanitizing Option on?
You can activate the sanitizing option for most fabrics and materials—except for temperature-sensitive fabrics, like wool, silk, and leather.
Speaking of which—in addition to a Steam Clean setting, the Whirlpool 4.5 cubic-foot front-load washing machine (WFW5620HW) has a Cold Wash cycle that safeguards your delicates, providing optimal care via adjustable wash actions and temperature controls.
Shopping for Washers with Sanitizing Features
As always, be sure to conduct independent research to supplement our product guides. Scouring our catalog is easy. From helping you discern essential laundry features to navigating the filters pane, here's how Albert Lee can help you find the right sanitize-cycle washing machine that meets your needs.
How to Set Filters on a Catalog
If you're no stranger to online shopping, you know you can filter through catalog search results based on personal specifications, including cost range, brand, whether an appliance model is Energy Star certified, and, of course, if it has a sanitizing option.
From our Laundry catalog, simply hover over to the left pane of the results page and expand filter options by clicking on any of the "+" buttons. There, you can mark your preferences (several at a time) and narrow your potential purchase to selections that fit your criteria.
If you ask us, when it comes to minding a budget and determining whether or not you want to splurge on a new washer with hard-hitting features (including a sanitizing option), we say go for it! We get a lot of mileage off laundry appliances and getting what we pay for is as tickling as freshly washed linen when pressed up against our noses.
Using Chat or Phone to Ask Questions
Whether you're narrowing your options or trying to figure out where to start, we can guide you over the phone or via chat to help you find the best washing machine to meet your needs.
Our appliance experts are available for any questions you may have! You can click on the chat icon at the bottom-right side of our homepage—we are proud to confirm there is indeed a human (not a customer-service bot) on the other end waiting to help. You can also give us a call at any of our six store locations or our toll-free number at 1-866-966-2110.
Measuring Your Space
Remember to take, check, and double-check measurements of the available space you hope to fill with your new washing and sanitizing machine. As a note, washers typically need a couple inches of space behind the machine for installation purposes.
Product specification sheets disclose depth requirements and can be found on our product pages under the Useful Documents heading. (Watch the screengrab below to see where the Useful Documents section is on one of our product pages!)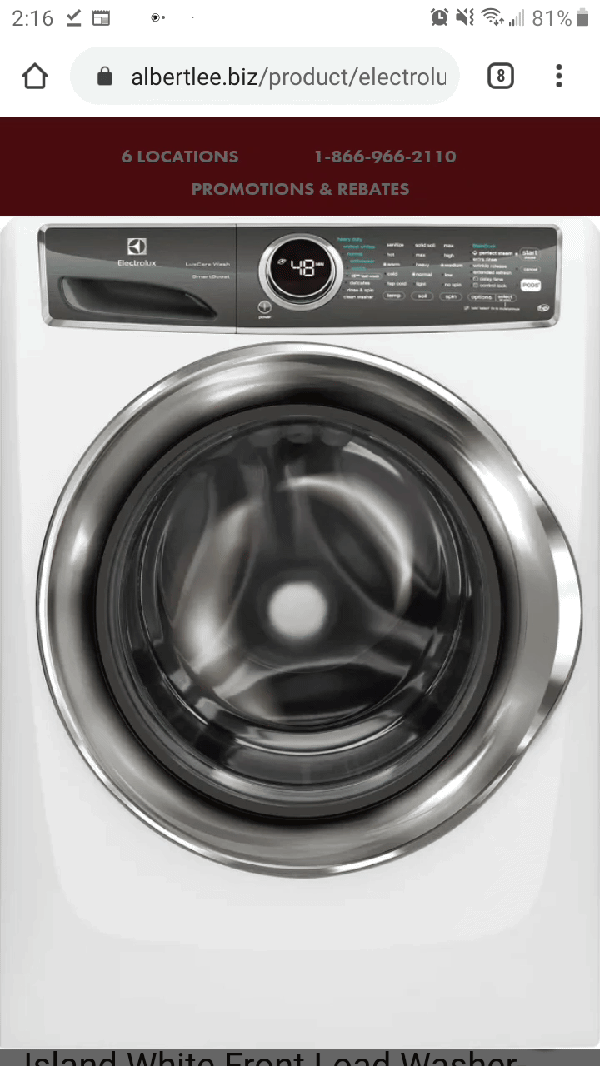 Let Us Help You
For any and all appliance needs, contact our experts at Albert Lee—we're always happy to help. Call or chat with us today!
Regarding COVID-19, our appliance delivery teams are taking precautionary steps to help minimize the current public health emergency and, as such, have taken proactive steps such as disinfecting themselves between customer deliveries and wearing rubber gloves while performing deliveries at our customer's homes.
We are taking every precaution to clean and disinfect our stores throughout the day above and beyond the normal cleaning process, including professional disinfection, as well as ensuring our customers and employees can maintain a safe social distance. For more information, please visit https://www.albertlee.biz/ala-covid19.